Quite Galoublue " Blue" 17 hh 2004 Selle Francais
By the sensational KWPN stallion Mr Blue out of a Galoubet A mare. Galoubet A produced the world renowned stallion Baloubet du Rouet !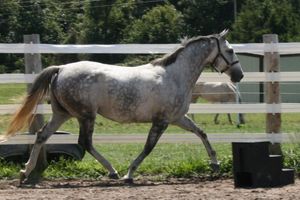 The sensational VDL stallion Zirroco Blue is her half brother ! 
Mr.Blue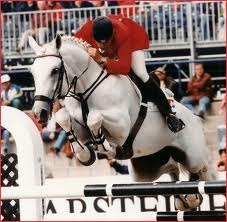 Mr Blue's pedigree is not so familiar but nonetheless very interesting. His sire 'Couperus' only covered a small number of mares before being exported to Indonesia, however his dam 'Acarla' is a full sister to the horse 'Zucarlos' that carried Jay Hayes of Canada to the Barcelona Olympics in 1992
Performance
Under Bert Romp Mr Blue competed at the top level in jumping, winning the German Masters in Stuttgart, World Cup qualifiers in Berlin and Paris as well as a team silver medal at the European Championships at Mannheim, all in 1997. He followed this up with a 2nd place finish at the World Cup finals the following year Helsinki. He was the sold to the USA where he continued his success under the saddle of Elise Haas
Progeny
Mr Blue only produced a limited number of offspring in his career but their quality is outstanding. They include the 2010 World Cup final winner in Geneva & multiple 5 star GP winner 'Plot Blue' (Marcus Enning), the 2011 number 1 ranked jumper in the world 'Simon' (Jeron Dubbeldam) who won the Calgary CSIO Grand Prix and finished 2nd in the 2011 World Cup final and then with Beezy Madden won the 2013 World Cup Final and finished 7th in the Final 2014, was 2nd in the GP of Calgary CSIO & a multiple 5 star GP winner, 'Sapphire B' (Ml van der Vleuten) winner of the 5 star GPw of London Olympia, 3rd in the 5 star GPw Gothenburg & won the 4 star GP of De Steeg and has multiple top 5 star 1m50 placings. Also Santana B (Leopold van Asten) and Casper van Spieveld (Jos Lansink). . Also his young son 'Zirocco Blue' just breaking onto the international jumping circuit is already a very popular sire in Holland, in 2013 he won the 4 star GP of Copenhagen, was 6th in the 5 star GPw of London Olympia & 8th in the GP of 5 star Gijon CSIO.....
Breeding Suggestions
He was a superb jumper with scope, technique and a good competitive attitude himself. His offspring while not the most beautiful themselves do seem to inherit his very good jumping manners. Possibly avoid mares that are too common in type, but generally he would suit most modern mares perfectly.
Galoubet A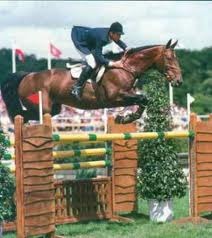 Galoubet's sire Alme is undoubtedly one of the great showjumping sires and indeed sires of sires of all time. Alme produced the jumping superstars 'I Love You' (Norman Dello Joio), 'Joyau d'Or A' (Bruno Scolari), 'Jalisco B' (Manuel Malta da Costa), 'Artos' (Peter Leone), 'Animo' (Morten Aasen), 'Ahorn', 'Athlet Z', 'Herban' . . etc His stallion legacy is now being continued by the likes of 'Quidam de Revel', 'Nabab de Reve', 'Guidam', 'Verdi', 'Andiamo', 'Arpeggio', 'Quick Star', 'Baloubet du Rouet' as well as Galoubet etc. . Galoubet's dam Viti was a French Trotter mare.
Performance
Galoubet was one of the first showjumping stallions to compete at the very top level. Ridden by Gilles-Bertrand de Ballanda, he was French Champion on three occasions, he won amongst others the GP of Wiesbaden in 1979, was 8th in the World Cup Final in 1980 and topped it all by finishing 5th individually and winning team gold at the World Championships in Dublin in 1982.
Progeny
Galoubet has produced a large number of international GP winners including 'Baloubet du Rouet' (Rodrigo Pessoa) Olympic Individual gold medalist and three time in a row Wold Cup Final winner '98, '99, '2000 and now a leading sire, 'Taloubet Z' (Christian Ahlmann) World Cup Final winner 2011, 'Quick Star' (Merideth Michaels-Beerbaum) GP winner at Munich and Maastricht, now a leading sire, 'Touchdown' (James Kernan) Olympic competitor and sire of Dermot Lennon's world champion mare 'Liscalgot' and 'Skippy' (Rick Hemeryck) etc . . . Galoubet is himself now regarded as a sire of sires and is responsible through his sons for a very significant branch of the currently active Alme dynasty with the likes of 'Big Star' (Nick Skelton), 'Chaman' (Ludger Beerbaum), 'Castlefield Eclipse' (Paul Esterman), 'Bodego' (Alvaro de Mirando Neto) and 'Cylana' (Reed Kessler) amongst others. .
Breeding Suggestions
Was noted for his enormous power and scope but also for his playful bucking after the fence in competition himself and we can recognise many of these traits in his offspring. They aren't necessarily the prettiest horses and don't all jump with classic techniques, but they generally jump and jump enthusiastically, have power and scope and are careful. He needed refined types of mares and ideally ones with level temperaments too, but when breeders got the mix right they were rewarded with great competitors.