Prestine F 
Imported KWPN STER 16.1hh 
 ISJ level 1.50m with Nina Fagerström (FIN); 1st CSI2* 2008 - Grand Prix (1.45m) San Lazzaro di Savena (
ITA)
Also showed with Eric Lamaze and Yann Candell.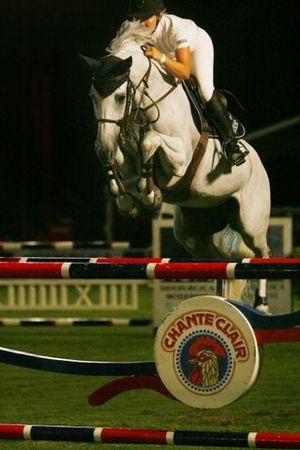 Sire Corland ;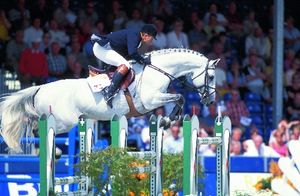 Pedigree
Corland's pedigree includes some of Holsteins most influential showjumping progenitors and indeed sires of sires in 'Cor de la Bryere', 'Landgraf' and 'Ronald's sire 'Ramiro...... His sire the French bred 'Cor de la Bryere' was brought into Holstein as a refining stallion to phenomenal effect, producing amongst others 'Calletto's I and II'(Ml Ruping), 'Corrado I'(Franke Sloothaak), 'Cera'(Paul Darragh and Otto Becker), 'Goldika'(Toni Hassmann), 'Cordalme Z'(Gilbert Bockmann)......... His dam's sire Landgraf I was himself a product of the thoroughbred refiner stallion 'Ladykiller XX' and became the sire of the most money winning progeny ever. These include 'Lucky Luke', 'Taggi'(Soren von Ronne), 'Freestyle'(Jean-Claude Vangeenberghe), 'Landlord', 'Waterford Crystal' (Cian O Connor), Libero H' (Jos Lansink), 'Burggraaf' and 'Landadel'........... Corlands full sister 'BB Corlanda' was a multiple Grand Prix winner for Switzerland with Willy Mellinger.
Performance
Corland was a successful grand prix jumper under the saddle of W J van der Schans placing in the grand prix of Rotterdam, Oslo, Den Bosch, Calgary, La Baule, Bordeaux, Mastricht and finishing 9th individually in the European championships 2001.
Progeny
Corland has produced a large number of big time grand prix jumpers including 'Silvana de Hus' (Kevin Staut) team silver winner in Kentucky's WEG and Madrid's European Championships, winner of the GP Paris 5 star 2013......, 'Alpha VDL' (Darragh Kenny) winner of GP at HITS Ocala 2014......, 'Bacardi VDL' (Jos Lansink) 7 yr old world champion jumper Lanaken 2013......, 'Top Gun' (Kent Farrington)......, 'Eurocommerce California' (Gerco Schroder)......, 'Pacific' etc.
Breeding Suggestions
Corland was renowned for his sharpness off the ground, carefulness and good foreleg technique. These traits he generally passes on to his offspring. He probably best suits mares who finish their jumps well with good hind end technique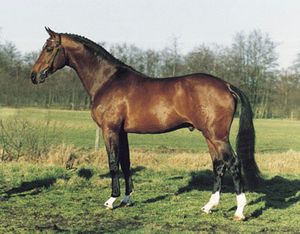 The KWPN named Flemmingh the highest ranking of 'Preferent' for his contribution to the Dutch Warmblood breeding in Holland. 
Flemmingh offspring are very much in demand by dressage riders, trainers and dealers worldwide because they are very eager learners, long lined modern types with superior work ethic and big fancy movement 
Lineage & Progeny:
Flemmingh's mare line is one of the best available in Holstein. Besides Flemmingh, his dam sired three other approved sons: Gaspari I and II and the Holstein Champion Litorio. Flemmingh sires beautiful, big, long-lined horses with three perfect gaits. This is proven by the great number of Ster and Keur mares, champion foals and dressage performance horses.

Flemmingh is the sire of many selection champions such as: Kwebbel- Reserve Champion UTV and the highest IBOP of the Netherlands with 90 points, Likina Field- Reserve Champion UTV, Kevanie- UTV Reserve Champion, Rilena- Reserve Champion of Holland and Champion of Europe, Sarina- Champion of Friesland, Silvita- Reserve Champion of Friesland, Sivemmie- Champion of Groningen, Sigranta- Champion of Overijssel, Tola- highest IBOP of NAWPN 2005 and #1 in the DG Bar Cup for 5-years old horses, Up to Date- one of the best 4 year old KWPN dressage horses in USA 2005 and finally, Astrid de la Cornilliere- Foal Champion of Zeeland.

The approved stallions; Krack C, Santino and Lingh are some of the most famous Flemmingh sons. In 2005, A Flemmingh son was placed 5th in the finals for dressage of the KWPN approvals.

His offspring are performing very well at the National and International dressage shows. His son Lingh, ridden by Edward Gal, was Reserve Champion of Holland, he won the World Cup in Amsterdam and was Reserve Champion at the World Cup Final in Las Vegas, where he was the crowd favorite. He won and placed in several other Grand Prix and World Cup qualifiers. He was also a member of the Dutch team at the European Championship. Flemmingh's approved son Krack C has also won several Grand Prix and was the best KWPN dressage horse during the World Championship in Jerez 2002. Krack C won the Grand Prix Special in 's Hertogenbosch and became the Dutch Dressage Champion of 2005. Also very successful is BeSe, ridden by Catherina Morelli, who won the Grand Prix Special and the Grand Prix at the International Horse Show in Palm Beach. Melvin, who is with Imke Schellekens-Bartels, has already placed 2nd twice in a Grand Prix and was 4th at the Dutch Championship 2006.

Flemmingh was an internationally appreciated dressage stallion.