Lord Adonis 2008, 16.2hh and owned by renowned international grand prix jumper Rene Tebbel, Lord Adonis took everyones breath away when he was presented and approved at the Oldenburg Hengst-Tage in 2010. Lord Adonis was then imported to the U.S.A. in June 2012, and only a couple months later was taken to the 2012 North American Staliion Performance Testing where he received an impressive 7th in Dressage (110.78), 7th in Jumping (111.83), and 8th Overall (111.58), and was one of only four horses inspected for approval by the Hanoverian society where he received Elite status. Some of the scores he received during the testing are: Character: 9; Temperament : 8.5; Constitution: 9; Stadium Jumping: 9; Free Jumping: 9; Cross Country: 8.5; Walk: 8.5; Canter: 8.25; Trot: 7.5. 
His modern type, confident yet quiet demeanor and versatile talents have fully licensed him with the following breed organizations and studbooks: Westflisches Pferdestammbuch e.V., Westfalen Horse Assoc., Oldenburg Springpferde International, German Oldenburg Verband, American/Canadian/German Hanoverian Society, Rheinland Pfalz Saar, Royal Belgian Sport Horse Society (Studbook sBs) KWPN (regA) Canadian Sport Horse and Canadian Warmblood.  
Sire: Lordanos - Currently the USEF LEADING JUMPING SIRE. Sire of LORDAN, winner of the Zoetis $1 Million Grand Prix at HITS Saugerties. The 9 year won $350,000 for owner/rider Nayel Nasser and is the Leading USEF $25,000 PLUS GRAND PRIX horse. Lordanos career began by winning nearly 40 tests for young jumpers in series. He has been successful in 1.40m- and 1.50m-classes for eleven years. The family horse won advanced (S) classes with all three riding Sosaths - Janne, Gerd and Hendrik and was victorious in both the Big Tour and in puissance, as he jumped over a wall of 2 meters with Janne.|In 2007, Lordanos presented a good number of horses that qualified for the Bundeschampionat. After Lumos victory in Warendorf in 2004, Light On was a high placed finalist in the class for five year olds in 2007. The top priced Verden auction horse Lohengrin became the Hanoverian Show Jumper Champion and another son won the licensing in Finland. Lordanos also sired Lex Lugar, 2010 German National Derby winner, who he shared the VTV Stallion of the Year title with in 2010.
Adonis had his performance career cut short due to injury in his stall.  
Lordanos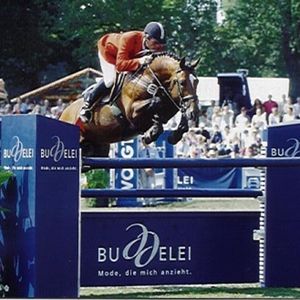 Raphael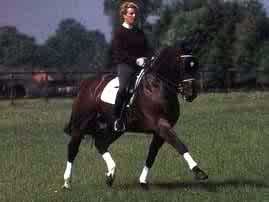 Larome