Rowdy 2002 Holstiener mare 16.2 hhs.
Reg and approved AWR, CWHBA, CSHA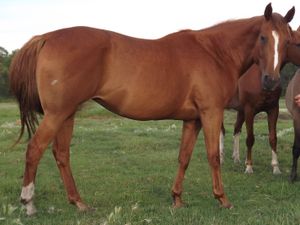 Sire: Colman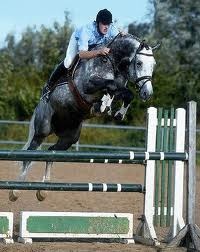 Outstanding among Holstein stallions, with an impressive appearance, Colman is clearly a performance horse. He is energetic, full of elasticity and has an amazing juping capacity. Colman won his 100 day jumping test and was placed in the top group overall. He is a son of the international show jumper Carthago (see Carbano). Dam's sire Lord became one of the most famous stallions in the Holstein breed and also was covering in Wöhrden in the past. In the third generation we find the outstanding thoroughbred Marlon xx. Colman represents the Holstein dam line 223 a, that got popular by the stallions Camposanto, Conello, De Kooning and Loredano.
Colman has already produced more than 15 high quality licensed sons, e. g. Cancoon, Carantanus, Culture I and II, Catwalk, Con Cosmos, Casinos, Colmander, Colmani, Contagio, Cool Crack I and II, Cordarex, Cottbus and Coulthard. The oldest offspring was very successful in advanced level jumping competitions and made their father one of the leading German stallions.
Grande Sire: Parabol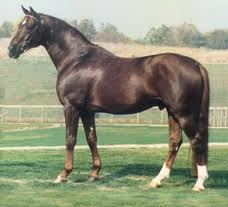 Parabol's life accomplishments celebrate his versatility. He won his Stallion Performance Testing with an overall score of 140 points and almost equal marks for dressage and jumping. Parabol was titled Champion of Oldenburg as a 4-year old. In Germany, Parabol had a successful jumping career, including winning the prestigious competition for young riders Prize of the Best, jumping 5.5' courses, while being judged on his quiet manner and technique over fences. Not surprisingly, Parabol is listed for the AHS Jumper Breeding Program. Upon his importation to the US, Parabol switched to a dressage career. He earned the USDF Horse of the Year title at Third Level in his first year of dressage. He was short listed for the 1994 Pan American Team, long-listed by the USET for many years, and competed successfully up through Grand Prix until his retirement from sport in 1999.
Parabol's sire Paradox I helped modernize the Westfalen breed and had a remarkable production record for show jumpers, including the wonderful mare Paloma who showed under Franke Sloothaak. Parabol's dam, Winzerin, has produced the licensed stallion Quell Charmeur. Winzerin is by Waldschuetz, a son of the Thoroughbred improvement sire Waidmannsdank.
Parabol's offspring show their sire's versatility as well. His approved son Pharaoh (Parabol-Almeo) campaigned successfully through Grand Prix. The Hilltop homebred Pacino (Parabol-Cor Noir) placed 6th in the USEF/Markel Young Horse Championships and was winning at Fourth Level in Florida in 2009. Parabol's get on the 'A' hunter circuit, including Paramount, Patagonia, Pentium, and St. Patrick, have won at Devon, Indio, and the Wellington Equestrian Festival. His incredible daughter Pijou (Parabol-Efendi) scored an overall 8.89 on her Mare Performance Test, including a 9 for rideability and a 10 for jumping.